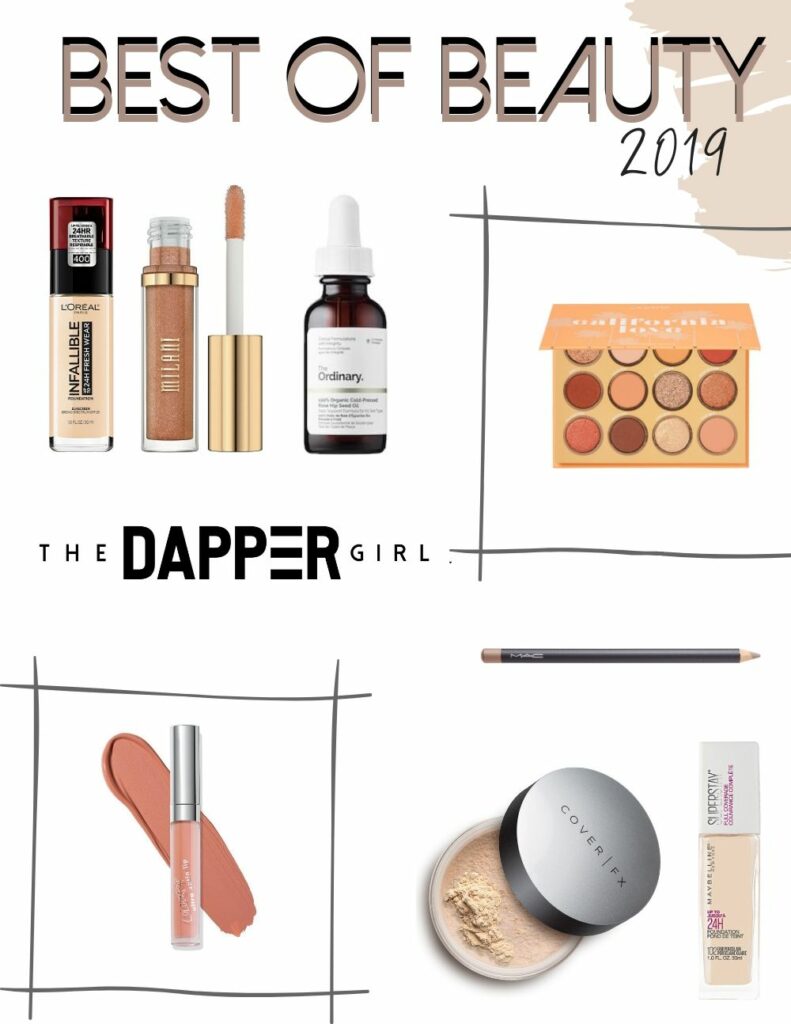 If you know me then you know I LOVE trying out new makeup and this past year was no exception.  The other morning when I was getting ready going through all my makeup in my makeup bag, I was thinking about what my favorite products in 2019 were and I thought I would share with you guys. I found some total winners that are super affordable and definitely compare to higher-end make up, I mean who doesn't like to save a dollar. I really tried to narrow it down and only pick my TOP products that I used over and over or repurchased multiple times.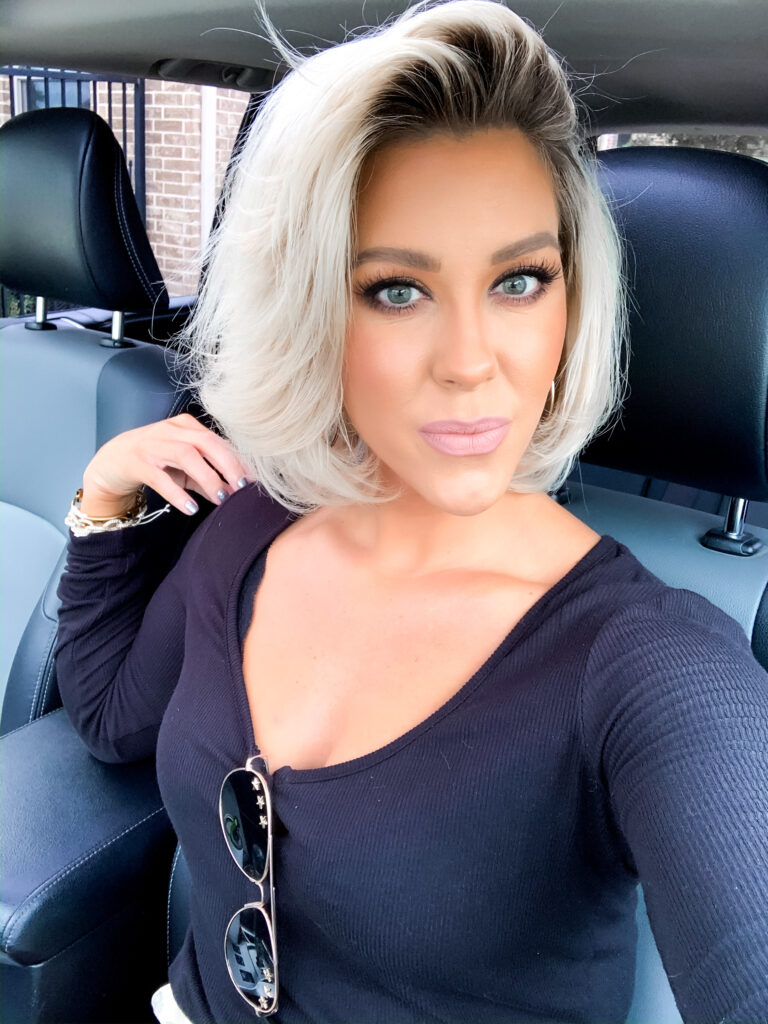 Foundation: I feel like my coverage preference always changes but most of the time I like a medium to build-able foundation and something that looks like skin and is going to last ALL day. The foundations that I loved in 2019 are the L'Oréal – Infallible Fresh Wear 24HR Foundation and Maybelline – Super Stay Full Coverage Foundation. I will say that the Maybelline foundation is SUPER full coverage and I don't like it on its own, so I like to mix in this facial oil. I typically do one drop of oil per pump. The Fresh Wear foundation is so nice on the skin, it looks like skin and it seriously lasts all day. This has been my go-to foundation for nights out!
Concealer: This may come as no shock because this is cult fav concealer but the Tarte – Shape Tape Concealer. I don't like to set my concealer or use any powder products under my eyes and I feel like this is one of the only concealers that doesn't crease and sets itself. A TINY amount goes a long way so this concealer should last you forever. If you have tried the shape tape concealer and you thought it was too drying I would recommend the new e.l.f. Hydrating Satin Camo Concealer! I has definitely become a new favorite of mine.
Powder: Hands down the COVER FX – Perfect Setting Powder. If you have dry or mature skin this powder is SO amazing. I like to set the areas where I tend to get oily throughout the day -sides of my nose, chin, and in between my brows. This powder looks absolutely stunning on the skin and it does a great job at controlling oily areas without looking powdery or cakey. This is also a great powder if you like to "bake" without over drying the skin or settling into fine lines and wrinkles.
Blush: This blush will probably always be an all time favorite but MAC – Powder Blush in Peaches is my favorite. It is a true "peach" blush and looks so good on all skin-tones! Even if you aren't really into blush I really think that you would like this one. An affordable option that I just got that is SO similar to peaches is the Burt's Bees 100% Natural Blush in Bare Peach . I have only been trying it out for about a week now but it is so freaking good.
Bronzer: So bronzer is probably one of my can't live with-outs, so there are a couple that I was loving. For matte blush is MAC Mineralize Skinfinish Natural – Give Me Sun!, I love the warmth and tone of it and it goes perfect with my skintone. I feel like this bronzer never lets me down. If you watched any of my makeup tutorials on IG then you know I love a good shimmer bronzer and that year after year has been the The Balm – Betty Lou Manizer Bronzer , especially in the summertime I can't get enough of this bronzer. It gives you the perfect warmth and glow. You can over do it with this one, a little bit goes a long way!
Highlighter: I'm not really into highlighting as much as I once was but if I had to choose one it would be BECCA – Shimmering Skin Perfector Pressed Highlighter Champagne Pop. Its so freaking pretty, smooth, and it doesn't emphasize a ton of texture on the skin. It also looks so good on just about every skin tone.
Brow Products: My two favorite brow products may come as a shock because they are SO affordable. The Ultra Precise Brow Pencil and the Wow Brow Gel Neutral Brown  from e.l.f. They really stepped up their game this year and their brow products are killing it. The pencil is very comparable to Anastasia – Brow Wiz, it last all day and the shade neutral brown is perfection. I would recommend checking their brow products out! Also, their new Total Face Sponge is incredible, was my favorite sponge of 2019!
Mascara: I've never been one to really splurge on mascara because I wear lashes so frequently and there are just so many incredible options at the drugstore. L'Oréal – Voluminous Lash Paradise Mascara was my favorite. It does such a good job at giving length and volume, but lasts all day and doesn't flake, crumble or smudge. A+ from me and exactly what I look for in a mascara.
Lashes: This will also come as no shock haha but Ardell – Lash Wispies . These lashes give you just the right amount of length and definition. They are natural yet slightly dramatic but not crazy looking. The thin band makes them super easy to apply and they don't weigh your eyes down. Highly recommend these if you are new to lashes or looking for an amazing natural lash. I use this glue.
Eyeshadow: Colorpop California Love Palette & The Jaclyn Hill x Morphe Palette were my two most used eye shadow palettes. If you are looking for an all around, do anything or any look with I would go with the Jaclyn Hill palette because of the diverse shades and finishes. If you are a lover of warm eye shadows the Colorpop California Love Palette is a dream! I have been using it almost every day since I got it. Both palettes are super pigmented and easy to blend out.
Lip Products: This was a hard category for me! I got REALLY into lip products in 2019, especially lip liners haha. First is the gloss I couldn't get enough of Milani – Keep It Full Nourishing Lip Plumper. I went though so many tubs of this gloss its not even funny. I always go so many compliments when wearing it too. My favorite shades are Nude Shimmer and Champagne. For lipstick the Maybelline – Color Sensational Shine Compulsion Lipstick  in Baddest Beige. Colourpop – Aquarius Ultra Satin Lip, and L'Oréal – Colour Riche Shine Lipstick in Shining Peach. All of these lippies are the prettiest nudes. I love to mix different shades of lip liners with all of them to change them up but for 2019 those were always my go-to's. For liners I tried and bought SO many from luxury to drugstore, and I fell in love with one of the most affordable liners on the market!  The L.A. Girl – Ultimate Lip Intense Wear Auto Lipliner in Keep It Spicy and Enduring Mauve. But my most worn of 2019 was probably MAC liner in Oak.