Beauty Doesn't Have to Break the Bank
I'm always trying out new makeup and I've found some amazing affordable products that seriously perform like high end! You don't have to always splurge on beauty products to look like a million bucks. And actually sometimes I prefer my drugstore makeup over my expensive stuff! Hints these 5 amazing affordable products that have replaced some of my staple products in my daily makeup routine.
5 Affordable Makeup Products I've Been Loving Lately
Maybelline Super Stay Full Coverage Foundation – This foundation is currently my #1 go-to foundation! Let me first say that it is very FULL coverage. A little bit of this foundation goes a long way. I always mix in one or two drops of this oil with it to sheer it out and apply it with a brush and then I will go over it with a damp beauty sponge and the finish is perfection. I personally think that this foundation would look good on any skin type but definitely exfoliate and moisturize really good if you're dry!
Maybelline Fit Me Loose Finishing Powder – I discovered this powder from MegO and let me tell you she was right – this powder is EVERYTHING. This has currently replaced all my other setting powders – It is by far the most finely milled affordable powder. It makes your skin look airbrushed and flawless! I use this powder to set my foundation with a damp beauty sponge and I will also use it to clean up my contour. I use light/medium and I feel like it is on the tan side, so I would recommend going one shade lighter.
Soap & Glory Supercat Eyeliner – I got this eyeliner on a whim when I ran out of my Stila liquid liner and I love it! It is super black and doesn't run or fade. The applicator is stiff so it makes it easy to get a precise line and wing!
Morphe Continuous Setting Mist – This setting spray is so amazing and deserves the hype it gets. The continuous mist is a game changer haha. The mist is so fine and doesn't disrupt your makeup, it seriously gives the most beautiful finish and glow to the skin. And it makes your makeup last longer. I will sometimes even use this before I apply foundation as a primer. If you don't have setting spray as a step in your makeup routine, I would definitely suggest it!
Milani Keep It Full Nourishing Lip Plumper – The obsession with this lip gloss is REAL! The shade "nude shimmer" and it is the perfect gloss to put over any shade of lipstick! I always get so many compliments when I wear it. It's so moisturizing too. As far as the plumping – it does have a minty feel but doesn't tingle or burn at all!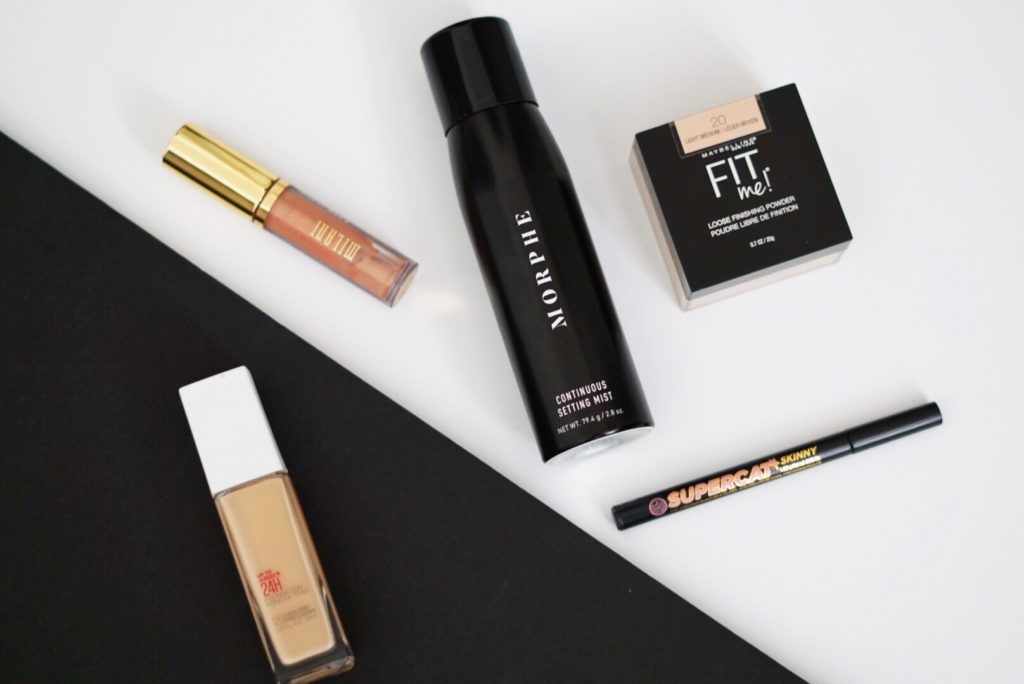 SHOP THE POST
What beauty products have you been loving lately? What are your favorite affordable makeup products?
xx, Crystal