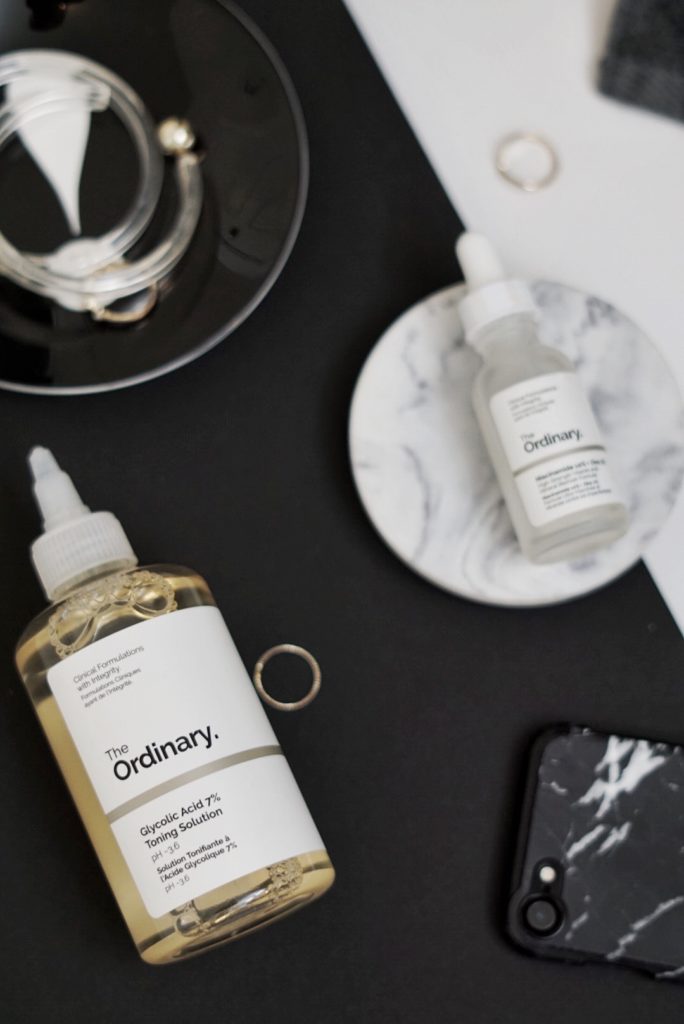 Affordable Skincare Routine  – was one of the most requested topics that I post about when I did an Instagram poll last week asking about what I should cover on the blog. I was so excited when this was requested because I have always loved skincare, and I have really found some amazing products that won't break the bank!
Okay, lets get real – skincare ain't cheap and I've tried so many different skincare regimens and products over the years, ranging from affordable, luxury, drugstore you name it. We are all on the hunt for that miracle product, right? Finding the right products that work well with each other and your skin type can be a costly venture! 
I started really focusing on my skin about 4-5 years ago. I was at the age where I started to get little lines and wrinkles and really wanted to prevent any major lines and texture. In my 30s now, I am way more cautious about what products I use on my skin and why. Today I'm going to share with you products that I have found that are incredible and I can stand behind 100%. I have been using these products for quite some time now and they have all become staples for me –  I honestly haven't changed up anything in my routine for probably over a year now because these products have worked wonders for my skin & the majority of them are affordable!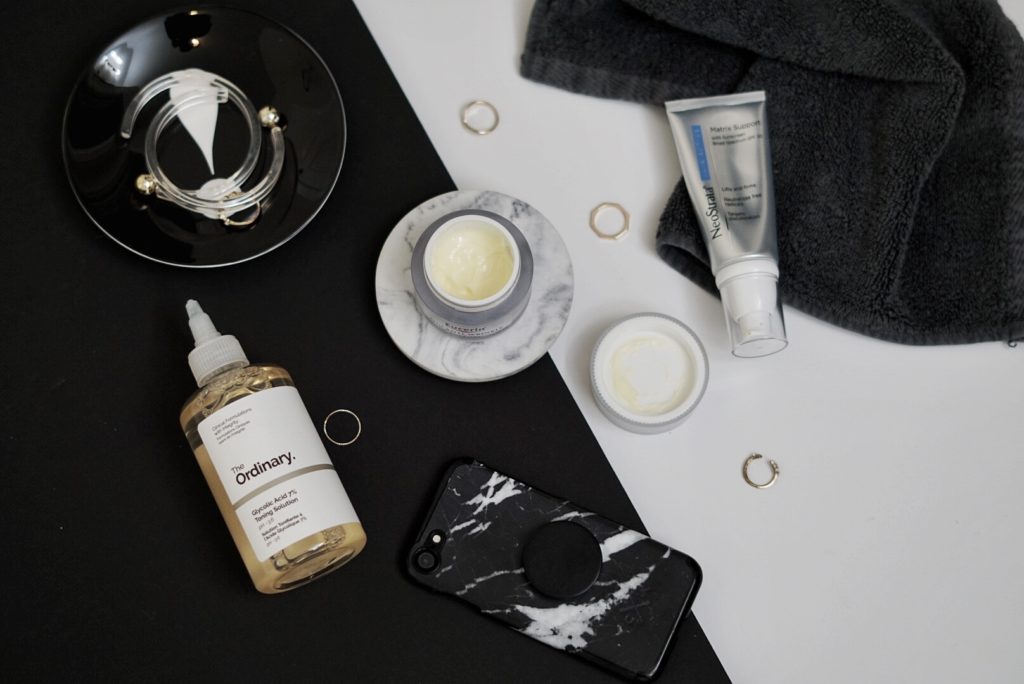 Face Wash
CERAVE FOAMING FACIAL CLEANSER 
This face wash is a cult favorite for good reason. It's foaming action is amazing at getting all the makeup off and its so gentle it doesn't dry out the skin. I "double cleanse" (which is a fancy way of saying I wash my face twice) and it's never been irritating or drying. The reason why double cleansing is beneficial is it really gets rid of all the makeup, debris and pollution from your skin. You want to work with a clean canvas before applying any other products to your skin. By doing so it allows the products to really penetrate into the skin. TIP: always, always, always wash your hands before you wash your face.
Toner 
THE ORDINARY GLYCOLIC ACID 7% TONING SOLUTION
If you think that toners are just for getting the makeup you missed and you don't need to use one – let me share some amazing benefits of incorporating a toner into your routine. Do you want smaller pores? Toners help! Do you want less texture and even skin tone. Toners help! What about balanced PH levels, and an extra layer of protection? Toners can help with that too. They can even prevent ingrown hair! If you incorporate only one product that I share with you, add this toner to your routine. This toner has literally changed my skin. It has made a HUGE difference in pore size, skin texture and has helped so much with sun damage. TIP: Use at night after cleansing before applying moisturizer.
AM Moisturizer 
NEOSTRATA SKIN ACTIVE MATRIX SUPPORT SPF 30
SPF is a vital part of skincare and finding a moisturizer that's good with SPF added that doesn't irritate the skin is hard to find. I was recommend Neostrata from my esthetician and I haven't used another daily moisturizer since – and that was over a year ago! This moisturizer is unique that is has moisturizing capabilities, a retinol, and SPF in one. It targets skin pigmentation issues, hydration, and texture, while lifting and firming. It has really helped with pigmentation issues in my skin.  It also looks amazing underneath makeup. I cannot recommend this moisturizer more!
PM Moisturizer 
EUCERIN Q10 ANTI-WRINKLE FACE CREME
To be completely honest I never knew that Eucerin made skincare products, did you? I'm so glad that I stumbled upon this moisturizer! If you have sensitive skin and can't find a good night time moisturizer that doesn't irritate or burn your skin, definitely try this one. Its rich texture leaves the skin supple and hydrated. I also use this an an eye cream as well!
Retinol
NEOSTRATA SKIN ACTIVE RETINOL + NAG COMPLEX
Just the word RETINOL can be scary, but trust me using one so beneficial to your skin! Retinols act as an exfoliant to the skin – improving texture, and pigmentation. There are all kinds of potentiates, formulas and grades. If you are interested in using retinols,  I would definitely recommend doing research before deciding to buy. The Neostrata is gentle and the BEST retinol I've used. TIP: When first trying/using retinols do a patch test first!
Serums & Oils 
Serums and oils are like icing on a cake, an added bonus if you will. I use these 4 interchangeably depending on what I think my skin needs. If you want to know more about these serums and oils and why I incorporate them in my routine read my blog post talking about my favorite The Ordinary products, here.
THE ORDINARY 100% ORGANIC COLD-PRESSED ROSE HIP SEED OIL 
THE ORDINARY NIACINAMIDE 10% + ZINC 1% 30ML
THE ORDINARY CAFFEINE SOLUTION 5% + EGCG
THE ORDINARY HYALURONIC ACID 2% + B5 30ML
Face Mist
Faces mists are like the cherry on top, see what I did there 😉  I love incorporating face mists into my routine because they can be so refreshing, calming and soothing to the skin.
SUPERGOOP! DEFENSE REFRESH SETTING MIST  
If you have been following me since this summer you know I'm OBSESSED with this SPF setting mist from Supergoop! I started using this when I would go to the pool and then it quickly became an everyday for me in the summer. It has such a cool cooling and refreshing feel and it has SPF 50. I mean does it get any better.
I love Mario Bedescu's facial mists because they all have different benefits to the skin and are affordable! So regardless your skin type you're going to find a mist that works for you!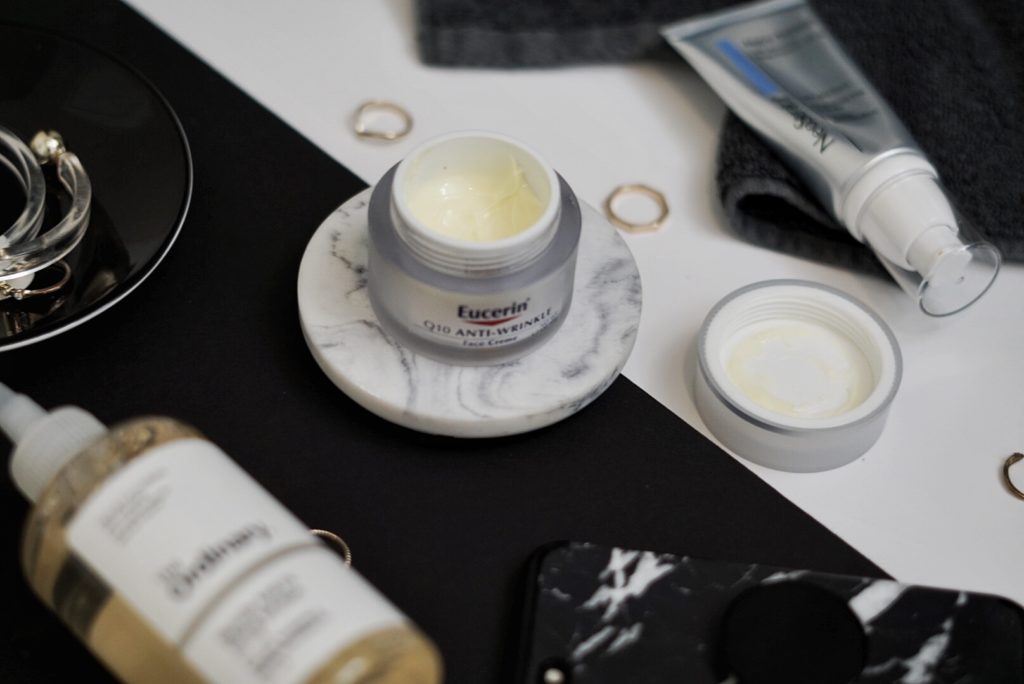 SHOP THE POST
I would love to know what your favorite skincare products are? Are there any products that I'm missing out on and have to try? I love hearing what works for you!
xx, crystal