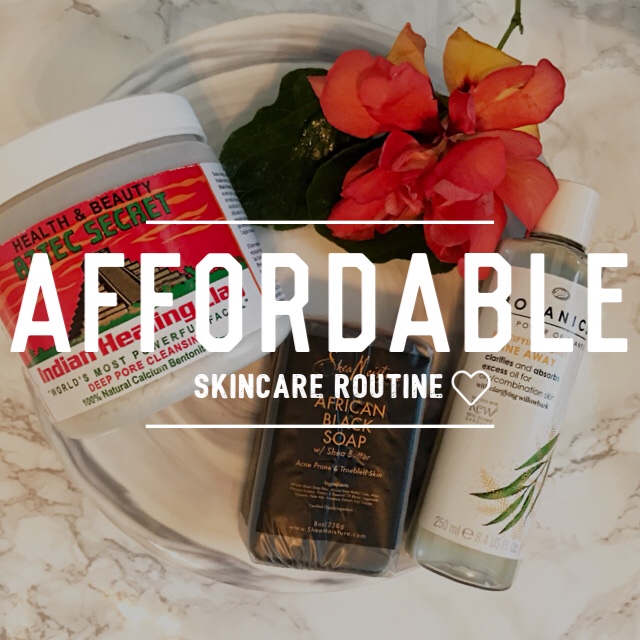 As of recently I feel like my skin has changed from not being sensitive at all, could try and use just about anything to overly sensitive and will freak out with changes and certain ingredients in products. I talked a little bit about my skin freak out in my August favorites, my skin was breaking out terribly, I had acne on my cheeks and down my neck, which I think it came from working out and overly sweating in the hot summer months. So, I tried using products that had salicylic acid in them and OMG my skin FREAKED out. My eyes were almost swollen shut for several days, my skin was so dry and red and hurt. It was the craziest thing, my skin has never had any kind of reaction like that and I try SO many beauty products. So, now I've been using several more natural/gentle products that have been affordable and effective! What are your favorite skin care products? What works best for you, I would love to know! 

Cleansers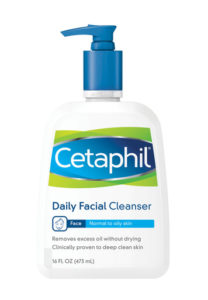 CETAPHIL Daily Face Cleanser – $7.99 –  Now you've probably heard about this cleanser, it is one of the most popular cleansers at the drugstore and I always find myself going back to this one. It's the most effective cleanser for ALL skin types and gets all traces of dirt and make up off without overly stripping your skin of your natural oils. It is also the most dermatologist recommended as well! If you haven't checked out this cleanser pop into your local drugstore and pick this one up, and I promise  you, you wont be disappointed!

SHEAMOISTURE African Black Soap Bar Soap –  $3.99  – I just recently started using this soap again, when my girlfriend and I were shopping in Target I saw this soap and I shouted to her across the isle "was my skin clear when we used this" and she was like "yes!" – sold, in my basket it goes! I forgot how much I loved this soap when I used it back in the day. This soap has rave reviews for people with acne/troubled skin and it's all natural, score! I use this soap in the mornings when I get done working out and let me tell you it leaves your skin SQUEAKY clean, for real squeaky! It does leave a tightness to your skin that does go away, without leaving your skin feeling overly dry. I think that this soap would be gentle enough for all skin types as well.
Exfoliator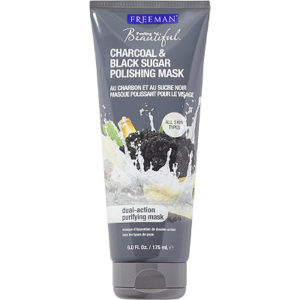 FEELING BEAUTIFUL Charcoal & Black Sugar Facial Polishing Mask – $4.29 – I can't tell you how many  of these I've been through but its A LOT! I always go back to this exfoliator! I've tried so many high end exfoliators, and even made my own with coconut oil and organic sugar (which is great too). I don't necessarily use this "mask" as a mask. I just use it as an exfoliator when I'm in the shower, I use about a quarter size and rub it all over my face in circular motions to cleanse and get all the dead skin off. I typically use it about 3x a week and it leaves my skin feeling clear and soft. I don't see why you have to spend more than $5.00 to get dead skin off, right!
Toner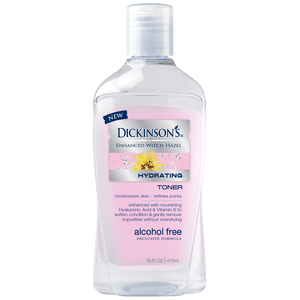 DICKINSON'S Enhanced Witch Hazel Alcohol Free Hydrating Toner – $6.99 – Okay, I know that there a several views on using Witch Hazel on your skin, let me say I'm not a skin care expert nor a dermatologist, I'm just letting you know what works for my skin! I love, love using toners, I love the way they make my skin feel and I like knowing that I've removed all the residual make up and grime off my face after cleansing. I especially love this toner because it is gentle enough to use every day, has hyaluronic acid in it to really plump up your skin, vitamin E for hydrating your skin and alcohol free! I use this toner at night before bed and it just leaves my skin feeling so clean and refreshed, I love it. I have already used up my bottle that I purchased and will definitely be re-purchasing again!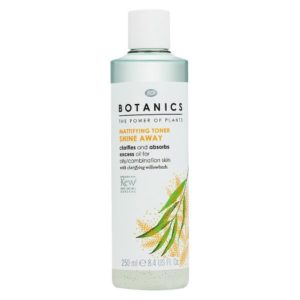 BOTANICS Shine Away Mattifying Toner $5.29 – I have combination skin, so my t-zone gets oily throughout the day and so I like to use this toner in the mornings after I cleanse my face before I put on makeup to keep my face matte. This is a great mattifying toner that doesn't over dry your skin. It also has willowbark it it which is a natural version of salicylic  acid, so it helps with calming your skin and breakouts. It is also filled with Kaolin Clay which settles at the bottom of the bottle, so you have to shake before use. Kaolin Clay also helps with sebum production and helps keep your skin matte. If you are looking for a shine reducing toner, I would highly recommend this one!
Moisturizer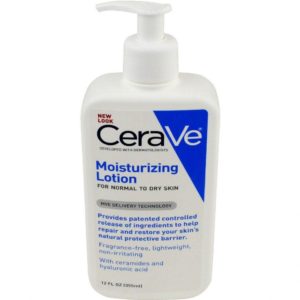 CERAVE Moisturizing Lotion – $14.99 – I had been a long time user of the Cetaphil Daily Facial Lotion but if I got it too close to my eye area it would burn and irritate my eyes, so I after reading and hearing great reviews about this lotion I decided to pick it up and try it out. I have been loving this lotion recently. It doesn't irritate or burn my eyes and leaves my skin feeling moisturized without feeling greasy! This lotion will last you FOREVER too, a little bit goes a long way! The second main ingredient is Glycerin so this moisturizer is great to use underneath make up as well to have it really adhere and last!
Face Mask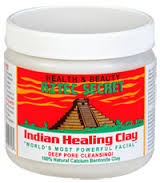 Aztec Secret Indian Healing Clay – $12.99 – This face mask is a cult favorite for good reason! When my skin was in freak out mode, this was one of my favorite masks to use. The only ingredient in this face mask is 100% natural calcium bentonite (green) clay. I feel like some sort of scientist when I use this mask because you do have to add in Apple Cider Vinegar to the clay and mix together yourself. The smell can be a little overwhelming at first, but it does go away. This mask does work wonders and its great for congested skin and blackheads. If you are looking for  an affordable effective mask, you need this one in your life!