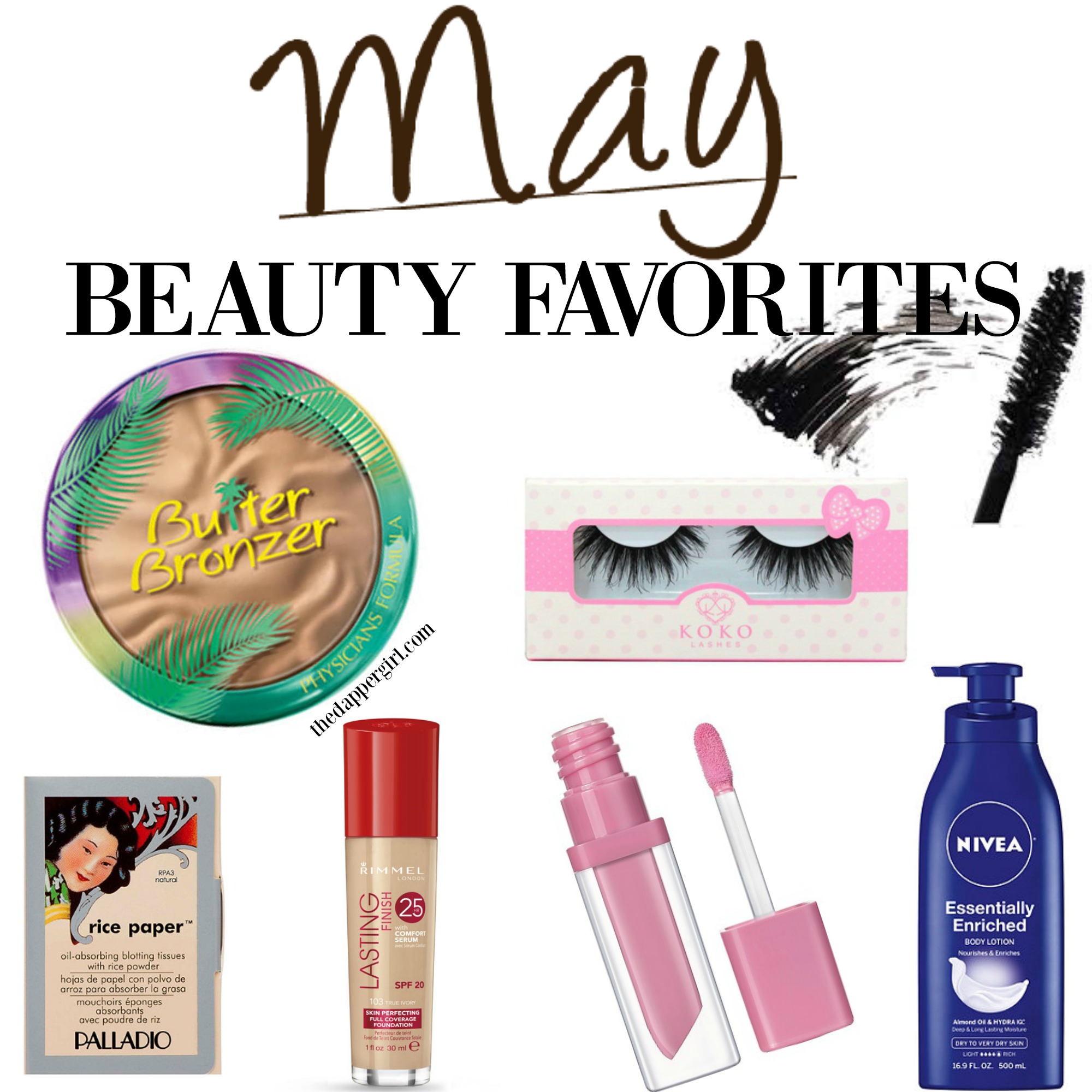 I can't believe it is June already, can you? May was a hectic month for me, but I did have time to pick up a few new beauty products! Today, I'm going to be sharing with you guys what I have been loving lately, and some products that are still topping my list of favorites! I personally love reading and watching beauty/lifestyle favorites. I always love to know what people are loving, and what I need to incorporate in my collection… But I've swore off purchasing any new make up this month (eeek I know, I hope I can do it), so my next months favorites might be some products I rediscover or fall in love with all over again! So, what have you been loving recently?

PALLADIO –  Oil Absorbing Rice Paper Tissues with Rice Powder $3.99 – I've never been one to carry around blotting papers, but these have quickly become a staple for me in my make up bag! I normally would just use a little bit of translucent powder in my t-zone when I get oily throughout the day, but sometimes I don't want any additional coverage or powder on my skin. These papers work wonders! They are two sided, one with a matte side for soaking up the oils without any coverage and one with a powder side for added coverage and to keep you matte longer. There are 3-4 different powder shades to chose from and they really do soak up any oil sitting on top of the skin and keep you matte! These are so great to throw in your bag on the go! If you haven't tried these out and you are an oil slick like me, you need these!
Essence  – Liquid Lipstick $3.49 – Let me first start by saying that these aren't liquid lipsticks, they are glosses. I'm not sure why Essence named them that, but they are definitely a glossy lipstick. Once you get past the name, these are so good! They are the perfect mix of pigment and gloss, I actually bought all the shades. I love the glosses because you don't have to apply a lipstick first, you can just swipe on this gloss and you are good to go! I love the formula too, very comfortable to wear and not overly sticky or too thick! These glosses aren't overly pigmented either, where they look unnatural and break up on the lips.  Target is now selling Essence products, so these will be easy to get your hands on if you are on the hunt for a perfect gloss.
PHYSICIANS FORMULA – Butter Bronzer Murumuru Butter Bronzer – I have STILL been obsessing over this bronzer! I thought for sure that this bronzer would be too light for me come summer time, but I'm still using it almost every single day! I like to contour my face with a cream first and then set it with powder, and this powder is so perfect to set a cream contour because it doesn't leave a cakey powdery finish. This bronzer just makes the skin absolutely beautiful, I cannot stop using it. Its so natural and stunning on the skin! If you have been on the fence about picking up this bronzer, check out my full review here.
KOKO Lashes –  Queen B  – I have to admit I wear lashes almost every day! I know it probably seems a little excessive to some, but throwing on a pair of lashes for me is quicker than applying 3 coats of mascara and obsessing how my lashes look.  I will say these lashes definitely deserve the name Queen B! (See picture below) They are so dramatic, but not over the top and are very comfortable to wear! I always get compliments when I wear these lashes, if you are a lash girl like me, you need these in your life!
NIVEA – Essentially Enriched Body Lotion – I'm always on the hunt for a moisturizing AND illuminating lotion and thanks to Desi Perkin's, I've found the perfect inexpensive lotion that does both! I'm on my 3rd bottle of this lotion and I love the way that it makes my skin look and feel! It leaves your skin so soft, moisturized and very glowy! If you are looking for a lotion to give you healthy, dewy, younger looking skin – try this one out!
RIMMEL LONDON – Lasting Finish Foundation – I have been using this foundation for about a month now and I have been L-O-V-I-N-G it! It's actually the foundation that I'm wearing at this very moment mixed with MAC Studio Fix! I stumbled upon this foundation at Ulta when I had to pick up some Stay Matte Pressed Powder and saw "Lasting Finish 25 Hour Wear", umm yes please sign me up! This foundation is a serum comfort foundation that has medium to build-able full coverage and leaves your skin looking like skin with a stunning satin finish. It gives such a beautiful skin like appearance while still covering imperfections. I have combination skin and my t-zone can get quite oily but this foundation works perfect for me and lasts quite a while on the skin. The only downside to this foundation is it doesn't come with a pump and the shade range isn't great but all and all this one of the best drugstore foundations I've tried!
*CLICK TO SHOP