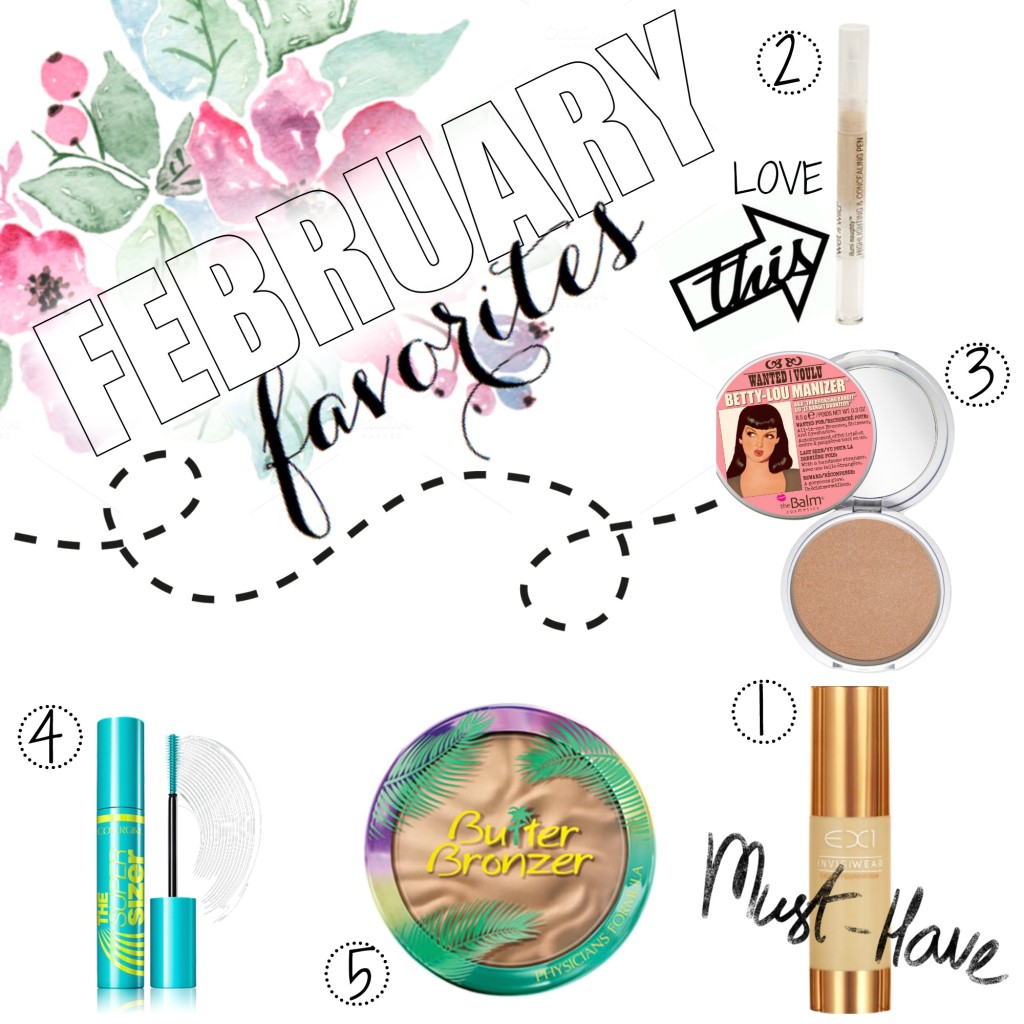 Happy Spring! I hope you guys are having a wonderful Spring so far! I'm looking forward to all the make up and fashion trends. Here are my February beauty favorites, I know it's a little late but I still wanted to get this post up because I was really loving some of the products and some are very affordable, SCORE! What products have you been loving lately? Any that I should try out? What trends are you looking forward to most this Spring? – Crystal
ex1 foundation (f300) – I purchased this foundation about two months ago and really put it to the test after hearing so much hype about it from celebrity make up artists that have used this foundation on celebrities like Kylie Jenner and Adele. I'm absolutely in love with this foundation! This foundation is so beautiful on the skin, its so flawless and skin like. It gives a beautiful coverage without ever looking cakey or dry. I believe that this foundation would be great for any skin type as I have combination/oily skin and it worked beautifully and lasted all day long! The only drawback about this foundation would be the color range, there isn't many shades to choose from so hopefully you can find your shade if you are wanting to try out this foundation.
more on the foundation from lookfantastic.com: This lightweight foundation is specially formulated for Asian, Middle/Far-Eastern or Mediterranean complexions, and is enriched with light diffusers to cleverly detract light away from lines, wrinkles and blemishes. Formulated with 'true colour' pigments, it blends perfectly with your skin tone, creating a natural, skin-on-skin effect. The non pore clogging formula is 100% oil and fragrance free, making it suitable for even the most sensitive of complexions. Smooth and velevety, this luxurious foundation will banish imperfections to leave you with even, clear and radiant skin

 
Wet n Wild Illumi-naughty Highlighting & Concealer Pen, I-Vory Into You – Wet and Wild has come out with everything from setting sprays, to brushes, to contour kits and now this amazing concealer. I purchased a heap load of Wet and Wild products and this highlighting pen has to be one of my favorites! I have already used up the whole pen and need to repurchase. The concealer gives such a beautiful, dewy radiant finish and is perfect for concealing and highlighting under the eye. It also never looked cakey or creased under the eye area. I was in total shock of this product, if a higher end brand was to brand this product it would be selling like hot cakes. You have to try out this concealer if you are a concealer junkie like I am!
more on the highlighting and concealing pen from drugstore.com – Promotes instant flawless complexion.  Highlights features.  Conceals imperfections.  Lifts dark areas. This lightweight, liquid pen gives you ultimate control to instantly lift your feature for a flawless complexion. – Blend into dark or shadowy areas to reduce the appearance of puffiness, blemishes, age spots, scars, or under eye circles. Highlight along the jaw and cheekbone to open your features. Includes Vitamin E and Chamomile to moisturize and condition for improved skin texture
The Balm – Betty-Lou Manizer Bronzer/Shadow – I'm really surprised that I haven't talked about this bronzer/luminizer before! If you want that bronzy, glowing from within look this is the product for you! I love to use this bronzer over top a matte bronzer or as a blush topper. I almost use this every day,  it is the perfect golden bronze shade and it goes perfect with every look and never looks muddy like some bronzers can. It works great as a eye shadow as well, if I'm in a rush in the mornings I will just apply this to the cheeks and eyes and will be good to go!
Covergirl -The Super Sizer Mascara – Not going to lie, I didn't know if I was going to like this mascara right off the bat because the wand is so unique but was I wrong! I love this mascara, especially when using it with false lashes! If you are a lash-wearer like me you know that sometimes blending in your natural lashes with faslies may look separated or not black enough. This mascara is BLACK, BLACK! I love it and it doesn't flake, bleed or irritate my eyes! If you are the hunt for an affordable mascara,  it's definitely a must try!
Physicians Formula Butter Bronzer  Light) –  I feel like good bronzers from the drugstore are very hard to come by and to be honest this is the first bronzer I own from the drugstore. I normally wouldn't go for a shade "light" but this bronzer is so perfect and gives you a natural sun-kissed look. I have medium to tan skin and it really does warm up my complexion beautifully without looking overboard. The formula is creamy and blend-able and does build up quite well. I feel like this bronzer would work well for beginners as it it pretty fool proof!  It does have a beachy fragrance to it, it smells like a pina colada which is unique, but if you are sensitive to fragrance beware.
more on this bronzer from ulta.com – Physicians Formula Butter Bronzer Murumuru Butter Bronzer is an ultra-luxurious bronzer infused with Murumuru Butter, delivering a radiant Brazilian goddess glow! Moisturizing wonder features ultra-refined pearl and soft-focus pigments that smooth skin texture, brighten skin tone and deliver a gorgeous bronze finish. 
*Click to Shop