The matte lip trend has been taking over the beauty industry for quite some time now and liquid lipsticks are becoming more and more popular and the must-have product for the lips. Liquid lipsticks made famous by Kylie Jenner, Instagram beauties and YouTube gurus, everyone is wanting to get their hands on them to see what the hype is all about. With luxury beauty brands like Anastasia Beverly Hills, Kat Von D, Stila, and MAC formulating their own versions of the liquid lip, liquid lipsticks are becoming more and more comfortable, and easy to wear. Liquid lipsticks have quite a bit of pros to wearing them, you typically only have to apply once for all day wear, you don't have to worry about bleeding or fading, and if you love to over draw your lips, it looks much more natural and it just looks so crisp and sharp. It took me a while to get on the liquid lipstick band wagon, but I'm really loving them now and so excited about the drugstore launching their own versions!  Are you a liquid lipstick lover? What are you favorite brands/shades I should try out? Are their any from the drugstore you have been loving lately?
These are the most recent matte liquid lipsticks from Revlon, L'Oreal, and Maybelline I've seen at the drugstore. I decided to pick up 3 nude shades and 1 true red. Review on the formula, longevity, and shade swatches below!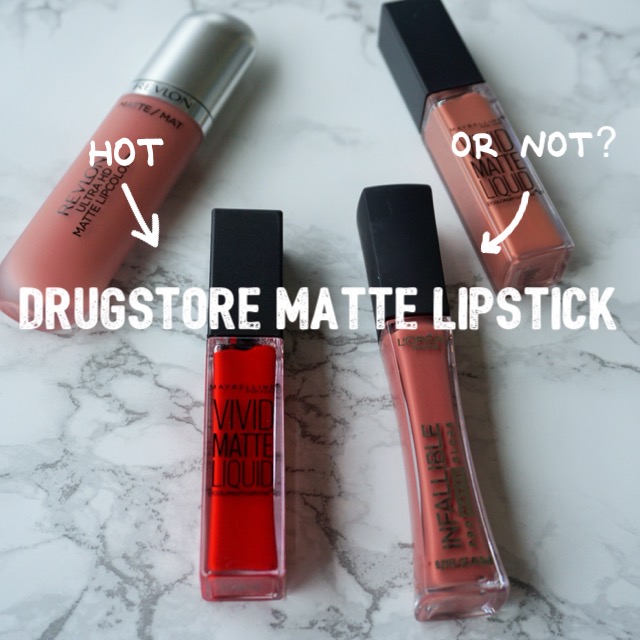 Revlon –  Ultra HD Matte Lipcolor $8.99 –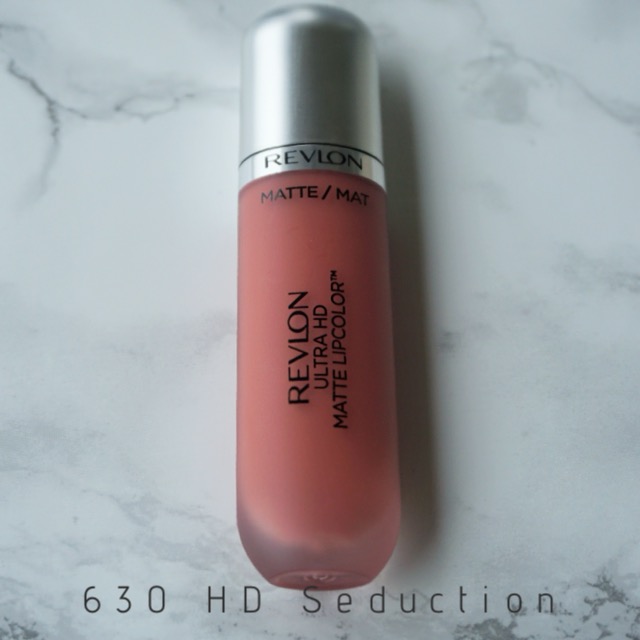 I have to start off by saying that this matte lip color is not matte! I was never able to get this shade to set it always looked a little glossy on the lips, with a semi-matte finish. However, the shade of 630 HD Seduction is beautiful. It is the perfect darker nude neutral shade, that would look beautiful on any skin tone. I would consider this more of a opaque gloss. The formula reminds me just like a lip gloss, it was very easy to apply and the color spread evenly on the lips. This ultra HD matte lip color does wear really nicely lasting quite a while, however if you are sensitive to scents this may be a little too scented for you. This lip color is heavily fragranced of a cherry cough syrup scent, and I could smell it forever! That was definitely a con for me. I would rate this lipstick a 6 out of 10, the color HD Seduction however is 10 out of 10! This matte lip color comes in (8) Shades :
Claims from drugstore.com –  Lightweight, high definition velvety matte color.  100% wax-free gel formula.  Moisturizing, velvety feel.  
L'Oreal – Infallible Pro-Matte Gloss $9.99  –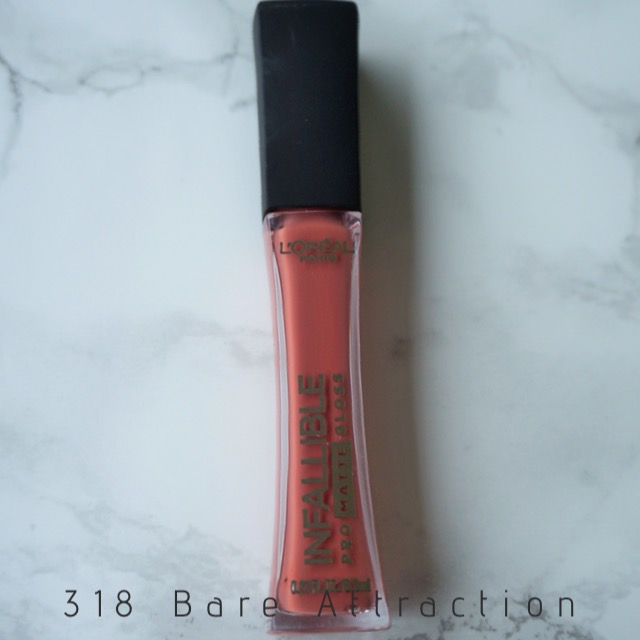 I was very excited to try these out from L'Oreal! I have been big fan of L'Oreal for a long time now, and the majority of the products that are launched out of the Infallible line are great! This matte gloss is just what is says it is, a matte gloss. I think that many more brands will continue to come out with this type of formula. This formula is matte, yet hydrating, so would be great for people not into liquid lipsticks but still love a matte lip. The formula has a very mousse like texture and the tear drop shaped applicator is very unique as well. This applied very smooth and didn't ball up like some liquid lipsticks tend to do and a felt great on the lips. The gloss did transfer, but wore great and left a nice stain on the lips after a while. I would rate this matte gloss a 8 out of 10 and the shade a 8 out of 10. This matte gloss comes in (10) Shades:
Claims from drugstore.com – A matte revolution: Our 1st high impact matte gloss.  Bold color intensity, lush feel.  All day comfort.  Our 1st high impact matte gloss. Infallible Pro-Matte Gloss provides high impact velvet matte color without the dry-out. The unique Pro-Sculpt applicator allows you to create endless looks from a bold sculpted look to a nude ombre. 
Maybelline – Vivid Matte Liquid Lip – $7.99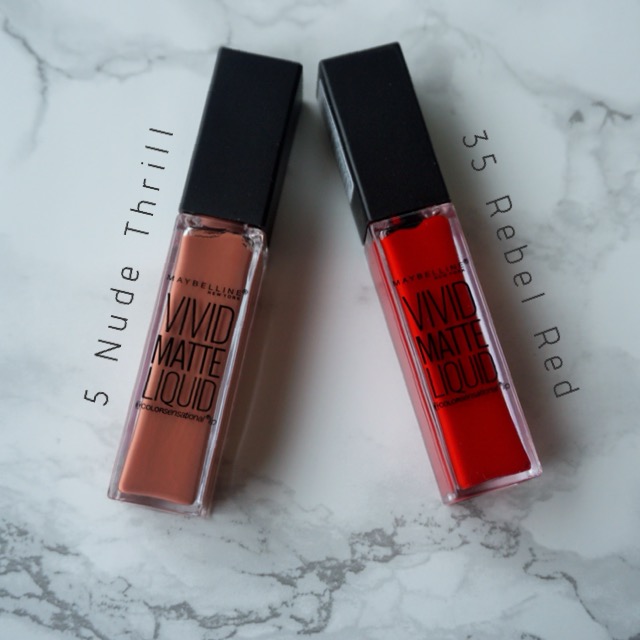 I was also really excited to try out these vivid matte lipsticks from Maybelline, because almost all their lipsticks the brand has launched I have loved! I love the Color Sensational Vivids, Mattes, Nudes, and Bloom collection. To be honest, I wasn't wowed by these. The formula varied from the two shades I purchased. The Rebel Red shade was very pretty classic red and the reason why I purchased it, but the formula was very patchy and streaky, it never set and looked glossy. If you tell me something is supposed to be matte, I want it to be matte! The Nude Thrill shade is a beautiful nude shade that would compliment any skin tone, that formula was a very mousse like and had a demi- matte finish. I really loved the shade of that one, however the smell of these are very fragrant of a sweet perfume and they made my lips numb and tingle! I thought maybe it was just me, and I read other reviews that claimed the exact thing. I was really disappointed in these 🙁 I rate the vivid matte lipsticks a 4 out of 10. Rebel Red Shade 3 out of 10, and Nude Thrill 8 out of 10. The Vivid Mattes come in (10) shades:


Claims from drugstore.com – Mattes go vivid.  Infused with pure pigments for high-impact color.  Lip color glides on smooth to a matte finish.  Creamy liquid base for a soft, cushiony feel.  Hydrating color with medium, matte coverage.
Swatches: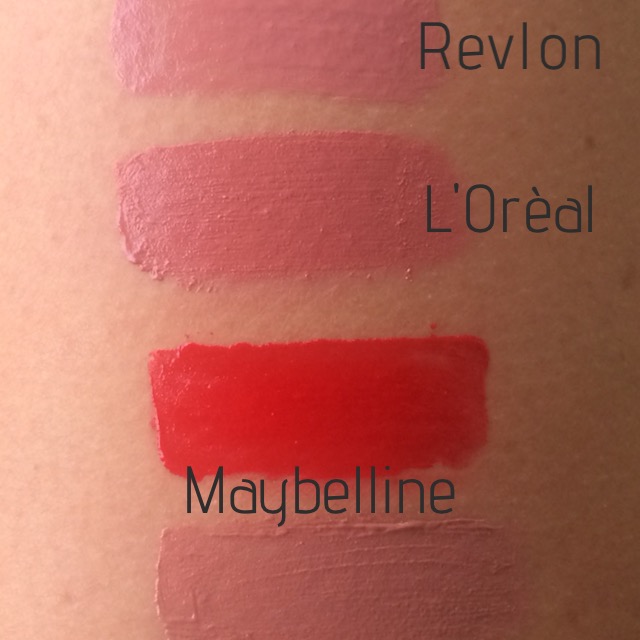 CLICK TO SHOP*