Leaders – Bye-Bye to Dry Hydrating Mask – I'm obsessed with this sheet mask! If  your skin is in need of a boost of hydration this mask is for you! I did a full review on this sheet mask, if you want to check that out here. This mask was so comfortable and relaxing to wear and left my skin feeling and looking amazing. Next time I'm in Ulta, I'm stocking up on the amazing masks!
Maybelline, Color Sensational Lipcolor – Warm Me Up – I think Maybelline kills it in the drugstore department for best affordable lipsticks. Their Matte Collection is perfection! I was browsing at Target (story of my life) when I ran across this shade, and I have been wearing this lipstick out. I have been more of natural nudes lately, instead of light pale nudes, and this shade is just the perfect shade and a get transition into Fall!
Kat Von D Everlasting Liquid Lipstick – Lolita – Okay, I caved into the whole Lolita cult. I have seen this lipstick on everyone and their mom and this shade seriously looks so good on everyone that wears it. This shade has Fall perfection written all over it. This was my first Kat Von D liquid lipstick purchase and I love the formula of these. The lipstick lasted all day and was really comfortable to wear! I didn't have any problems with it cracking, flaking or looking too dry.
Maybelline – Fit Me Matte + Poreless Foundation – I was a little reluctant with trying out this foundation because I have been obsessed with Loreal Pro Matte ever since it came out, but I'm glad I did. I love this foundation! I love the coverage, finish and longevity. If you have oily skin and are looking for a great affordable foundation, check this one out!
The Balm – CabanaBoy Blush – I absolutely love this shade of blush for fall. This mauve dusty shade with a hint of a golden undertone goes perfect with those fall vampy looks, but also can be worn for natural makeup as well. I love The Balm Cosmetics because their products are formulated without Talc, Parabens and are Cruelty-Free. This blush is so creamy and pigmented and a tiny bit goes a long way so you really get your moneys worth out of this product!
ColourPop Highlighter – Lunch Money – I have been obsessing over ColourPop lately! I love their shadows, lipsticks, and now their highlighters! I love the formula and shade of this highlight. This creme highlight is a light pale champagne color and can be worn underneath a powder highlighter,for that extra J Lo glow or can be worn alone for a subtle healthy, dewy complexion. I love this to use this highlighter both ways. I will definitely be purchasing more cheek products from ColourPop!
EOS – Ultra Moisturizing Lavender Shave Cream – I have been using the L'Occitane Almond Shower Oil as a shaving oil, to be honest its a little pricey so I wanted to try something that is a little bit more affordable. I have been really loving the EOS shave cream, its not like your typical shave gel, it is almost like a shaving lotion that leaves your legs feeling so hydrated after shaving. I have been really enjoying this shave lotion!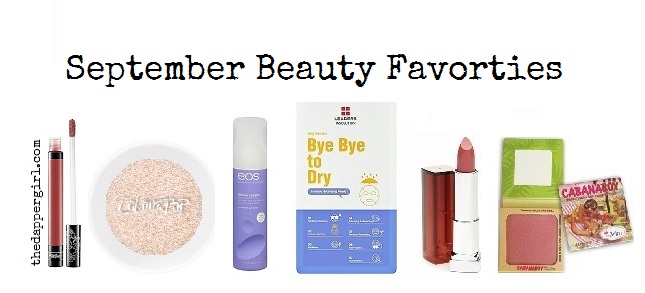 *Click to shop!