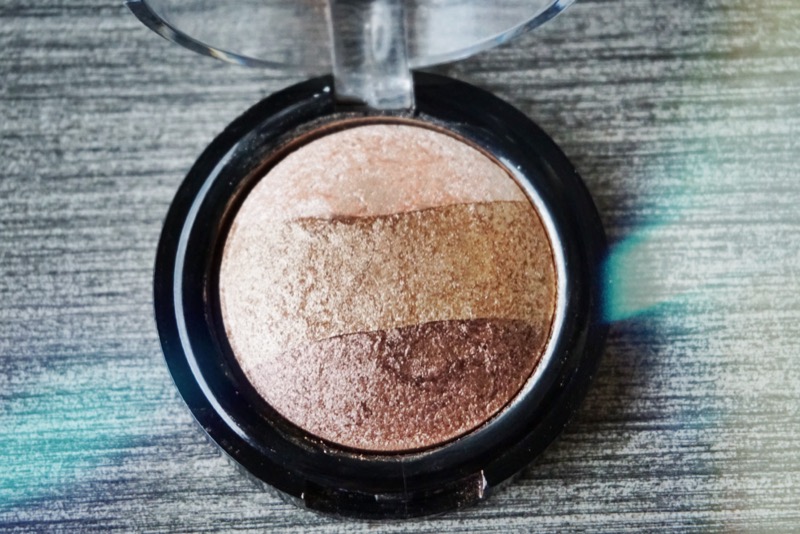 One morning while doing my make up, I did my face makeup first and then moved on to the eyes when I was totally stunned when I came across such a great eye shadow that would equally dupe for Laura Geller's, Gilded Honey. I was applying J Cat's Triple Baked Eye Shadow in Gingerbread to my eyes when I was shocked at how one of the shades in the trio was almost an exact dupe to this cult favorite highlight! So, I pulled out my Gilded Honey and swatched it side by side, and sure enough DUPE, texture, pigmentation, everything! I have raved about these eyeshadows before on my blog in my July Beauty Favorites, but had never tried it as an highlight at that time.
I will mix the lighter two shades together or just wear the middle shade for more of a golden glow. These eye shadows are SO amazing! They are just as creamy and pigmented as any high-end illuminator, better than some to be honest! Another big plus for me is they are formulated without talc. You can't go wrong with this shadow for only $5.99, you are getting eye shadow and an illuminator in one! This shadow will look beautiful on any skin tone. You can also wear these wet or dry,  I will usually spray a small amount of fix+ on my brush and pick up the product, and haven't had any issues with it not applying smoothly and evenly. I have also heard that the trio Dolce De Leche makes a great highlight as well, I will definitely be buying! Check these shadows out at Ulta, they are exclusive online now, however I purchased mine is store, so run to Ulta now to see if they still have any in-store you need this shadow in your life!
Do you use any eye shadows as highlighters, if so what are your favorites I should try??
Shop This Post*